Dhaka art project 02-08-2014
by Sabya van Elswijk,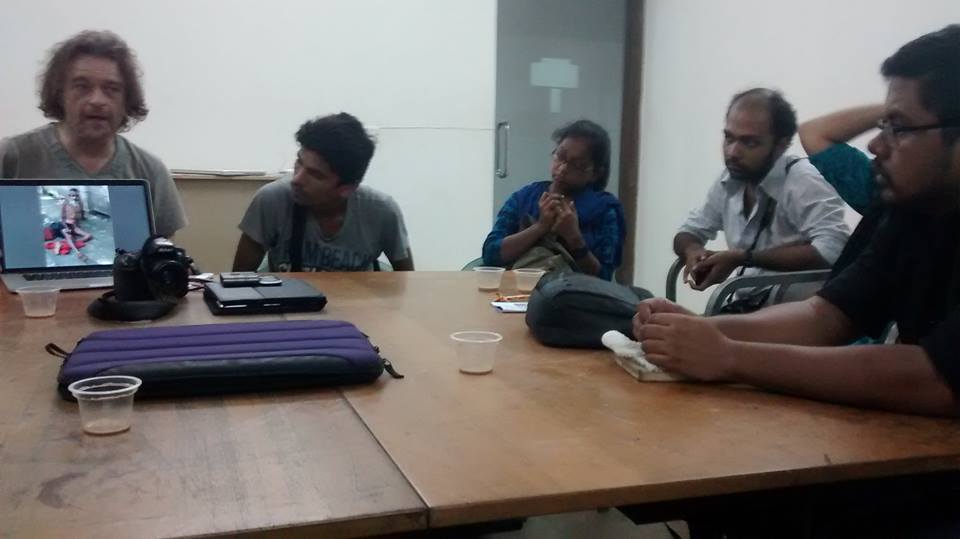 So today everybody that is actively working with a group is here, except for Ali, Apurbo and Moon. Alia made a list with everybody's name, subject, work process and contacts.
Where shall we show our work? What shall we show and how shall we show it?
Trina will use the box 1 x 1 m of the bangle sellers, and make portraits of the Bangle sellers, and also write their stories. She will make an installation with that and Bangles. She wants to show people the stories of the sellers.
Alia made a portrait of her father for this project. They had a disturbed relationship ,after the separation with her mom, she stayed with her mom. Her brother and Now she went there and made a painting of him. She started painting him fora n hour, and then they started talking. It was nice, very helpful for me. Sje keeps the painting at her fathers house, because she thinks her mother will be very angry.
Kallol and Jhumu made photos, he wants to print and…. Jhumu wil write texts.
Sipahi joins them, and makes a graphic interpretation of the works of Kallol.
Samsul will make a photo studio in a small slum, and invite people to be portrayed there. Then they can write their stories on their photo. Samsul wants to display it in various places, also in the slum it selves.
Martijn wants to make an installation with Sumons statue and Martijns painting. He would like to do some advertisement for from Nescafe.
Also all the portraits Martijn made will be hanged in a sculpture on a wall. For this we need a high wall somewhere.
Emran is buying a Rickshaw, to put all photo's and works on rickshaw drivers there.
Aroni is working with neglected musicians of Bangladesh. She started on a painting of instruments, and will be talking to the musicians soon.
Sumon will exhibit the paintings and sketches he made of Martijns photographs. Also he collected paintings and drawings from people on the street. He made some reproductions, leaflets of this work he will spread it as much as possible at the places where he went to ask for drawings. Also he will hang big prints around.
What would be a good place to the exhibition?
It could be a route, where people can go to different places to see the work.
We discuss what is a good area to do this. Then a question is: 'who are the people you want to view your work?' People who normally don't come in contact to the groups we work with.
Accessible to a lot of different people. Not only students, rich people, poor people everybody. Trina is thinking of opposite the fine arts university. So there are many groups, she could come there every morning and set up.
Sumon talks about the obstacles there could be, like traffic jam, or disapproval of owners. Martijn says that if we start thinking in obstacles, we will never do anything. Sabya adds that if you find a place you like to exhibit your work, the same process goes as for making the art: go there and make connection with the people. Engage the people that are there.
The nicest thing is to stay close to the group we worked with. That would mean we can lose the connection between the different groups. These are interesting questions, to think and talk about possibilities. There are many possibilities, everything is ok, the question is: how do we keep a connection between the work. And with our bright creative minds, let's think of possibilities no one thought of before.
Martijn gives an example of the Dragqueens exposition with his work that is held in 10 gay bars in Amsterdam during the gaypride there. What happens is that it is blending: the expositions, stories, and the activities of the gaypride blend, there is no difference anymore.
Everybody can start with the question: What is good for my art and the best way and what is the place to show it? And from there we see how we can connect it. That will not be optimal, but always better than just hanging it on a wall of a museum.
As a possibility, Samsul suggests that we can make moving expositions and a station of the exhibition.
Martijn says we should start with decomposing the question, what is good for my art: What do I want to do with it? For selling we should hang it in a museum or gallery, to change the world not, because no one will see it.
Where shall we expose our work and what is good for my art?
In order the to answer this question we have to ask ourselves:
5. What is the audience I want to reach?
6. What is the message I have with this/my art?
7. What do I want to achieve in my audience/myself?
To help thinking about this, start with these questions:
1. What was I thinking/feeling about my subject before I started the project?
2. What am I thinking/feeling about them now?
3. So what happened, what changed in me?
4. What changed in the person(s) I worked with?
In answering all these questions for yourself, you will find your connection with your audience and the place where and how to show your art.
When you started this project, you had some kind of definition of the situation. After that you contacted these people, you talked to them, you met them, portrayed them. After that you have changed, your ideas and definitions. And also the people you worked with changed. The question is: what has changed in myself during the project?
And then the question is how can we show our work in such a way that they cannot deny it. Because people will try to deny it, and make a definition of you, "a he can do crazy things because he is an artist."
So everybody write down these questions for yourself, and answer them in English or Bangla, so we can have a deeper discussion next week.
This is very fundamental for yourself, you can always choose to be a mainstream artist, but if you do not want to be that, these are the questions you will have to work with