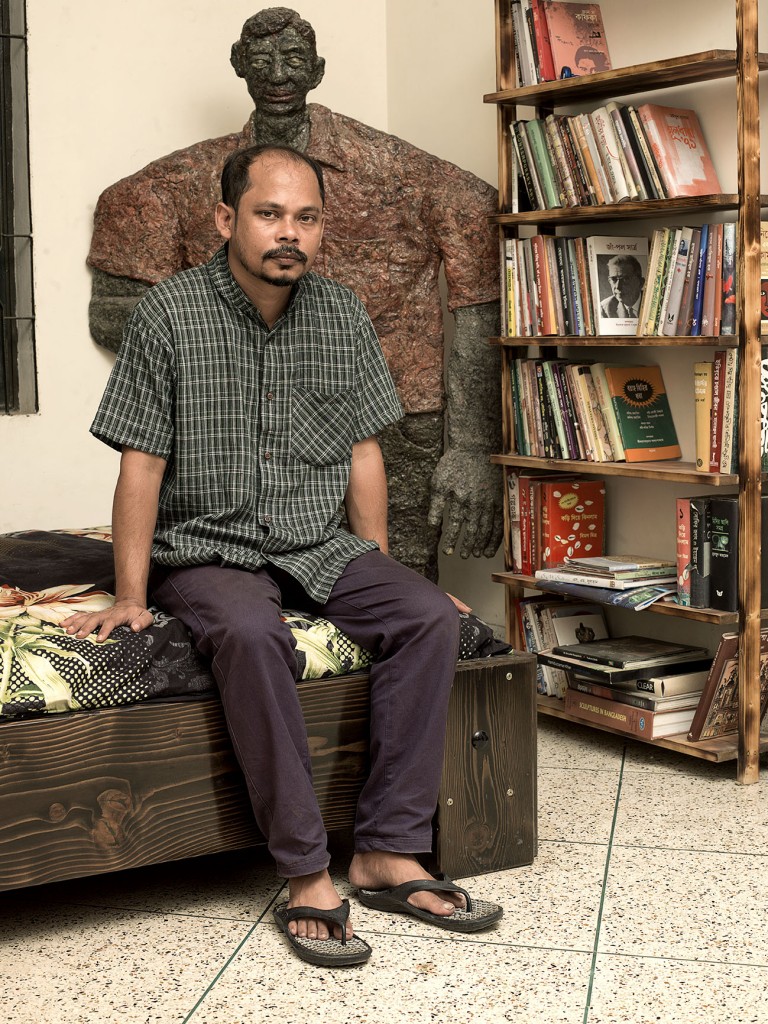 The city of Dhaka is one of the most crowded in the world. There is an proximity of 15.000.000 people pressed into a river Delta with the natural borders of rivers like, and even a number of an estimated 350.000 immigrants per year. There is housing for the higher middleclass, some 14% of the cities inhabitants paying 200 to 500 dollar per month, and the housing for the lower middleclass is there, but less abundant. For the none haves, there is no housing. This makes the city a city of streetpeople, some reports estimating a 40% of the people don't have proper housing. They built shacks along the railroads and on the pavement, or just sleep in the open. We met people that lived in these shacks along the railway since 1971, and many talk about staying on the street for at least 15 years.
The street people are not just there as a burden, but also as an economic power, doing any kind of low paid job. It is a city in a city that takes care of itself and his inhabitants.
We met Sumon. He told his story, and it show's many interesting aspect of the homeless of Dhaka. Sumon is 35 now. Sumon ran away from his mother when he was 6 and lived on the street for at least 8 years. He would not have survived in a city like Sao Paulo or New York. Being homeless here means something different. People come to Dhaka from the rural community in order to get an economic better life and somehow settle and survive. Not always in a good way, like the young women that unwillingly start to prostitute themselves, finding themselves very soon with al kind of venereal deceases unable to work. But most of them built shacks and somehow survice.
In this world the young Sumon entered as a 6 years old boy. His father and mother lived in a city outside Dhaka called Khulna, 300 kilometres from Dhaka near the Mangroveforest.  There were six brothers and sisters and he was the youngest of his mother, because his father had 2 wives. At a certain point his mother Amena Khatun decided to leave his father en go and live with her brothers in Dhaka.
The six-year-old Sumon didn't fell very welcome in the house of this brother. Already as a young boy het wanted to be alone, is what he remembers. He liked to stay in bed and draw. So he left the house because he felt not welcome. This was in 1988. He slept on the street or in Mosques, hiding for his relatives. Because he came from a rich family, he was not used to bag, so he sometimes did not eat for several days, sometimes steeling food, sometimes getting the food from from friendly adults that cared for him. This is something I typically find in Dhaka, they care for each other on the street. Everybody gets food. He enjoyed this way of life as a child. Always observing all the people in the street. So as a young child he understood that when you are part of a family, there is a distinction between us, the inner ones and them, the outer ones, for him now the basis of all religion. On the street he was alone, so he was always the other one. He developed that feeling over the years. He was not depending on others and they were not depending on him. He sometimes or some work from the other people on the street and than got food for it. There were people that tried to hurt him, but may people were very kind. He wandered around because he did not want to stay in a single place. He did not want a relation but liked to sit and watch the people, sometimes for hours. He was always aware of everything asking himself, what will be next. He already learned to read before he went on the street, so when he grew older het went to the libraries in Dhake en red everything he could lay his hands on. He red Anna Karanina when he was 8 years old, saying: well you don't understand everything but most of it. From all this reading he learned the most important lesson of his live, that he was a normal human being, not a family member for example. He adapted the idea of Nietzsche of Übermensch: "I decided to become a superman. This must be realized by stopping my emotion".
Than around he was 12 he decided to go to school, so he went to a school and asked them to admit him. They asked him where is his parents were or any relatives. He said that he did not have them and they decided to help him. He could sleep in the school and the school provided him some books. Still he liked to wander so he walked almost 10 to 13 kilometres in Dhaka every day. People knew him already and they liked him so they gave him food. He only had a shirt and a pant, and for him that was enough. And everywhere he was in the street he was drawing, drawing and drawing, that is his real passion. And he made sculptors with clay that was everywhere to be found. When he was 15, he found in the library a leaflet about the art school. He went to the school and asked the teacher to teach him. But he had no money, so he proposed that he worked for the school so they would teach him. So he started to study fine arts when he was 15 years old. He stayed at the school as a sleeping place worked as an assistant. with a teacher and learned all the traditional art skills, like painting and printing. He worked as an assistant to a teacher, M.R. Didar, and was 3 years studying painting and drawing. It was a time of internal and external fight as well, fighting with him self and fighting with an establishment that tried to bind him and push him in their direction. So he loved to stay alone and not waist his time in fighting with others. Observing is still always better than conversation, Sumon says. So he does not like to enter his work in competitions, because than it is a fight again. He did this in the past, because his teacher asked him, but not anymore. He prefers to stay away form society, aside everything. It was in that period that he made contact with his mother again. She said that she always had believed that someday he would come back. He started at the fine art faculty and worked as a journalist. When he earned some money at the age of 29 he took his mother with him in his house so he could take care of her. Two years ago she died. He said that up until now he has no urge to go and see his father, although he knows, he still lives.
In the mean time he stopped his studies at the faculty of the fine arts, because he got bored of realistic painting and started a study of linguistics. Finally he returned to the faculty of fine art and got his master degree. Now he is married to Jhumu and works as a journalist and teacher at the faculty of fine arts.
So a boy that lived on the street Finally found a place in the world. A thing only possible in Dhaka, we think, because the border between living on the street and living in a house is vague.